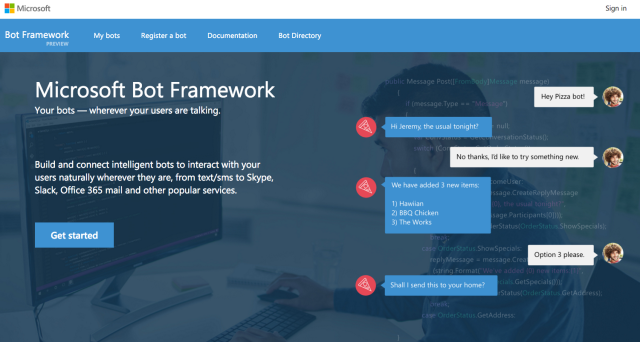 Microsoft is offering new tools to help developers build interactive bots that understand natural language, the company announced at its Build conference today.
There are two key components, which are available in preview and are both part of the larger Cortana Intelligence Suite. "The first, Microsoft Cognitive Services, is a collection of intelligence APIs that allows systems to see, hear, speak, understand and interpret our needs using natural methods of communication," Microsoft said. "The second, the Microsoft Bot Framework, can be used by developers—programming in any language—to build intelligent bots that enable customers to chat using natural language on a wide variety of platforms including text/SMS, Office 365, Skype, Slack, the Web and more."
Though Microsoft's own "Tay" bot became a public relations nightmare, the company demonstrated how artificial intelligence applications built with Microsoft technology can be useful in the real world. Most impressive right now is "Seeing AI," an application to help blind people navigate the world, built by a blind Microsoft software engineer named Saqib Shaikh.
Read 9 remaining paragraphs | Comments