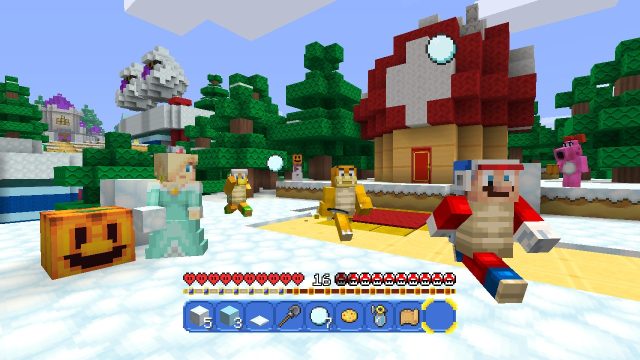 The release of yet another bit of cosmetic DLC for one specific version of Minecraft isn't usually the kind of thing we'd take the time to write about at Ars. But the latest skin pack for the game caught our eye because it marks the first time that characters from Nintendo's Super Mario Bros. series have shown up in a game published by an ostensible console competitor: Microsoft, in this case.
The "Super Mario Mash-Up Pack" will launch as a free download exclusively for the Wii U version of the game on May 17 and come included on the retail disc when it launches on June 17 (the downloadable version launched on Wii U last December). It includes 40 Mario-themed skins, new world and item textures inspired by the Mario series, and 15 pieces of music from Super Mario 64.
Releasing special content specifically targeted at Wii U players may seem like an odd thing for Microsoft to do after the company spent $2.5 billion to acquire Minecraft maker Mojang back in 2014. At the time, though, Microsoft promised that the many existing versions of Minecraft on platforms like PlayStation systems, iOS, and Android wouldn't be affected by the purchase. The company has proved true to its word since then, releasing a Wii U version just a few months ago and even featuring Sony's LittleBigPlanet series in DLC for the PlayStation 4 version of the game last year.
Read 3 remaining paragraphs | Comments